http://www.screenwritingu.com/rewrite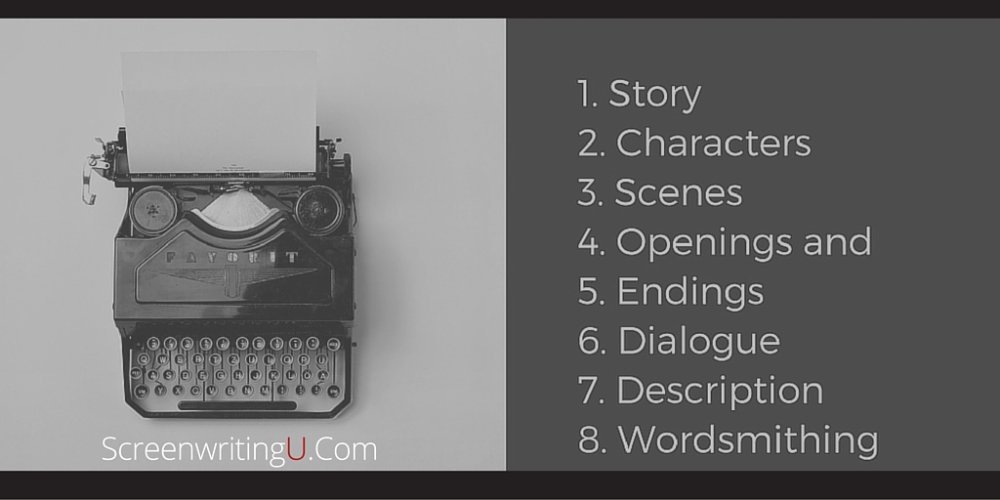 Day 1: Clarify Your Story so you can deliver it more powerfully.
Day 2: Elevate the Structure to improve the overall reading experience.
Day 3: Hone Your Subplots.
Day 4: Character Profiles: Truly Understanding Your Characters.
Day 5: Elevate the Individual Character's Stories.
Day 6: Create Situations that make Your Characters Compelling.
Day 7: Introduce Your Characters Powerfully.
Day 8: Character Descriptions that are Unforgettable.
Day 9: Rate Each Scene so you can easily solve Hidden Scene Problems.
Day 10: Scene Structures that double the drama.
Day 11: Meaningful Action Process — Deliver meaning that is seen, felt, and experienced.
Day 12: Satisfying, surprising, and meaningful endings.
Day 13: Sell Your Story in the First Three Pages.
Day 14: The Easy Way to Give Characters Unique Dialogue.
Day 15: Punch Up Dull Dialogue
Day 16: Solve On-The-Nose Dialogue
Day 17: Description that Delivers on Visual and Emotional levels.
Day 18: Wordsmithing: Choosing the best words and cutting out the fat
Day 19: Exchange Scripts for Feedback.
QUALITY comes from elevating the key components of your script.

To truly create an amazing screenplay, you need to work in a NON-LINEAR fashion — improving each major component of your script, starting with the largest (story) and moving to the smallest (words).